Cole and Co lime shampoo is the best shampoo to use if you have dry, harder to manage hair. Because the formula contains extra balancing and conditioning ingredients, it's great for all hair types, particularly fine and medium hair. Basil & Mandarin Shampoo is great for all hair colours and lengths. It has just the right amount of citrus smell without overpowering other essential oils in your hair. Basil and cinnamon will leave your hair feeling fresh and clean without any greasy residue.
Reviews of Cole & Co Lime, Basil & Mandarin Shampoo
I'm a big fan of Cole & Co and have been for years. Although, I must admit, after using the new Lime, Basil & Mandarin shampoo and conditioner for the first time last week, I have to say that these products are my new favourites from the range. The smell is fresh and clean and it leaves my hair feeling great. There's something very zen about using them too. I feel like I'm having a little spa moment every time I wash my hair! – Libby Whittaker
My hair had been feeling really dry and damaged from overbleaching, I think I was using way too much product on it. My friend recommended this brand to me and I have been using it ever since! The shampoo and conditioner smell incredible, not at all like your average drugstore stuff. I have tried other brands but always go back to Cole & Co, the quality is amazing! – Ella White
I have been using the Cole & Co lime, basil and mandarin shampoo for a couple of weeks now and I love it. My hair is very fine and tends to get greasy a lot quicker than I would like. However, this shampoo uses natural ingredients and doesn't strip the oils out of your hair leaving it clean, fresh-smelling and manageable. I also love that all the products are handmade in small batches in the UK. – Tia Jennings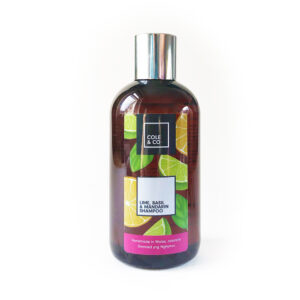 Product Descriptions
Cole and Co Lime Shampoo are designed to cleanse the hair and scalp without stripping away the natural oils. Made using botanical extracts and carefully selected ingredients, this is a true premium shampoo teeming with soothing moisturisers and anti-oxidants. Created by hand, and made from the finest of ingredients, this revitalising shampoo will reinvigorate even the most lifeless of hair. Lime, Basil & Mandarin is the perfect addition to your bathroom and your pampering routine. This fresh-smelling shampoo will make a luxurious addition to both. It is suitable for all hair types.
Features
1. Mild cleansing
2. Frizz control
3. Great smell
How to Use
1. Apply the shampoo to wet hair
2. Rub well into hair and scalp
3. Rinse thoroughly
4. For best results, follow with our Lime, Basil & Mandarin Conditioner
Buy Online: Click Here
Also Read:
Watermans Grow Me shampoo (Review) – Before and After
Watermans Hair Growth Shampoo Review