Review of Watermans Hair Growth Shampoo: How much is it important to use a good hair growth product? If you haven't understood the need of the best hair growth shampoo for your hair then your hair might fall in trouble soon. Every time when the climate changes, the hair get to face its problems. The sudden change of atmosphere and climate directly leads to hair damage. The first thing your hair faces in the name of hair damage is hair fall.
Therefore, we have brought you hair growth shampoo to help you get the fuller and thicker-looking volumized hair. The formula will encourage tremendous hair growth and easily transform thin or short hair into thick and long respectively. Further, Watermans hair growth shampoo helps to enhance the condition of the hair by strengthening hair follicles. Further, the formula is brilliantly made while containing natural DHT blockers and improves scalp circulation.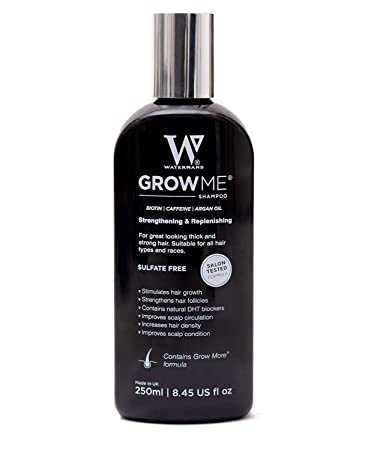 Try this grow me shampoo to achieve incredible volume and length of the fine hair. the product is extremely effective on thin and fine hair that seeks a solution to boost volume and length. On the other hand, the shampoo is infused with biotin that tends to encourage hair growth. The Watermans hair growth shampoo review will also help you to gain knowledge about the formulation and ingredients of the shampoo. The main ingredients of the shampoo include biotin, caffeine, argan oil kernels, rosemary extract, allantoin, hydrolysed lupin protein and vitamin B3.
Now get longer, thicker, stronger, beautiful and fuller-looking hair faster with the help of the best hair growth shampoo by Watermans. This shampoo further improves the scalp circulation while increasing hair density as it contains natural DHT blockers. Wight the regular use of the shampoo one can witnesses the drastic transformation i9n the hair condition with added body and shine. In addition to this, the shampoo leaves the hair in softer, smoother and shinier condition and enhance its manageability. '
The shampoo is recommended to check out for the better use of the shampoo. Use it daily or on your hair wash days to get faster result.
Pros of Watermans Hair Growth Shampoo
Encourages tremendous har growth
Contains natural ingredients and DTH blockers
Increases hair density to give a fuller look
Improves scalp circulation to enhance hair growth
Provides added body and shine to all types of mane
Cons
Takes a little longer to provide effective result
Product is a bit expensive for being just a usual hair growth shampoo
Also Read: