Mixa 24 HR Moisturising Balancing Cream is the ultimate pick for anyone looking to regain skin elasticity, smoothness and shine. This cream features an innovative technology that releases essential oils directly into your skin for a truly effective post-work shave solution. With just a 3-minute splash, this cream transitions from a subtle pink to a vibrant green tint while leaving your face feeling silky smooth. Turn your everyday care regimen on its head and start enjoying the fresh smell of freshly cut grass amidst the freedom of daily exercise. Can be used on any skin type without irritation or evidence of irritation within 24 hours.
Review of MIXA 24 HR Moisturising Balancing Cream
This cream is very hydrating and it smells nice. I love how it glides on smoothly and absorbs quickly without any greasy residue. I love the way my skin feels after applying it. It's not only been keeping my skin moisturised but it has also been soothing the redness in my cheeks, making it look brighter. – Millie Jones
This is my first time using a skin care product from outside of the US and I love it! I'm a teacher and I teach all day, then go to work at night at a bar which can be very dry and harsh on my skin. This cream has done wonders for me. It's light but very moisturising, and it soaks in fast. I would definitely recommend this to anyone who is looking for a high quality but affordable skin care product! – Georgina Myers
My face was so dry, flaky and itchy! My skin is really sensitive to the cold weather. I am always looking for something that could help with this problem, but it never happened. With this winter my skin was the worst ever and I tried a lot of creams and oils but I didn't see any results. Until I found this moisturising cream. It's really good for sensitive skin, it's not greasy or sticky. This product is really amazing! – Shannon Armstrong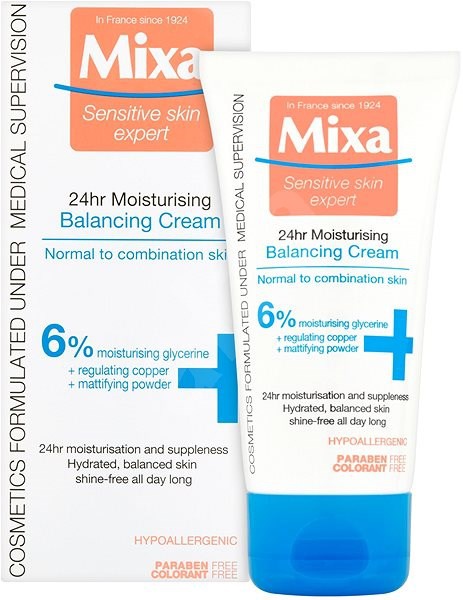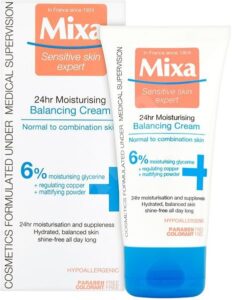 Product Descriptions
MIXA 24 HR Moisturising Balancing Cream instantly provides long-lasting hydration and intensive moisturisation for the skin. Its lightweight formula absorbs into the epidermis easily, without leaving the skin oily or sticky. It works to prevent shine on the legs that often occurs in hot weather, whilst providing intensive moisture for extremely dry skin areas. Our exclusive blend of plant oils and polymethoxylated fatty acid (PMO) penetrates deeply to give fast relief from discomfort caused by wind burn and cold weather exposure. The result is velvety soft skin with a natural, healthy glow.
Features
1. Moisturises intensely and rapidly
2. Leaves the skin velvety smooth to the touch
3. Gives long-lasting intensive hydration for the skin
4. Has a natural SPF of 10 +/PA+++
How to Use
1.Apply to clean skin and massage in using circular movements
2. Apply every time you want to feel balance
3. Use morning and evening