Teaology – Matcha Tea Ultra-Firming Face Cream is a 100% natural, non-GMO product designed to give you the youthful appearance of young skin while protecting your natural collagen and preserving your glow. The unique gel formula easily melts into skin providing an anti-aging effect while moisturizing and strengthening your skin's barrier. It contains leaves known to contain Resveratrol which helps boost the production of collagen in your skin resulting in a younger looking complexion with minimized signs of aging. It contains no alcohol or harsh chemicals which means it can be used by adults and children without causing irritation.
Review of Teaology Matcha Tea Ultra-Firming Face Cream
I have been using Teaology's Matcha Tea Ultra-Firming Face Cream for a while now and I have to say, I am loving the results! The fine lines around my eyes are much less noticeable and my skin feels firmer. This product also has a pleasant scent and is non-greasy. I would definitely recommend it to anyone who wants to slow down the signs of aging. – Gracie Hunter
I absolutely love this cream! It's a great moisturizer and the green tea smell is refreshing. I have combination skin and it doesn't leave my face oily or dry after using it. I've been using it for a couple weeks and can already see a difference in my skin texture. I highly recommend this cream to anybody looking for a new moisturizer. – Bethany Hanson
Matcha Tea Ultra-Firming Face Cream is a great moisturizer for any skin type. It is very light weight and soaks right into your skin. It's has a nice fresh smell to it. I love how all of their ingredients are natural and organic. They don't use chemicals or fillers in their products. This cream helps my skin stay moisturized and smooth even when the weather gets colder in winter. – Jessica Ball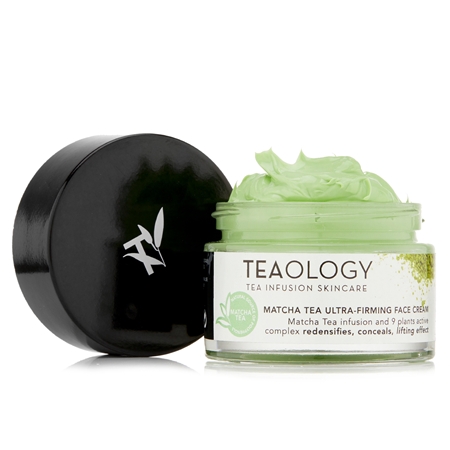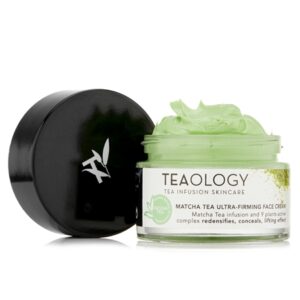 Product Descriptions
Matcha Tea Ultra-Firming Face Cream has a velvety texture that instantly blends into the skin, helping it to appear immediately firmer. The Anti-Ageing properties of Matcha Tea also help fight against the appearance of signs of aging. This lightweight, creamy textured moisturising cream is infused with a powerful concentration of Matcha Tea extract and pure Matcha Tea powder to help lift, re-densify and smooth facial contours. Rich in antioxidants it helps to fight free radical damage caused by the environment and every day stresses. Skin instantly appears up to 10 years younger, smoother and firmer.
Features
1. Helps improve skin elasticity
2. Improves texture of skin
3. Long lasting moisture
4. Brightens and tightens skin
5. Conceals pores and blemishes
How to Use
1. Apply Matcha Tea Ultra-Firming Face Cream all over your face and neck.
2. Gently massage until it has absorbed
3. Follow with your usual moisturiser