The Technic Strobe FX Cream is a versatile highlighting cream that transforms dull and tired skin into a glowing glow. The innovative technology used to create this cream allows users to blend multiple effects together to achieve different looks on their face while still maintaining their favorite look. The result is an instant, glowing look that lasts all day long. Primer-rich formulas provide moisture and protect from environmental aggressors. Can be used on normal skin tones to highlight and contour. Use as an all-over moisturizer for glowing skin.
Review of Technic Strobe FX Cream – Catching Rays – Highlighting Cream
I have been searching for the perfect tool to highlight my skin for a long time. I am very picky when it comes to highlighting my face. Usually I use contouring products but they just don't apply evenly on my skin. I tried the Technic Strobe FX Cream and it worked like a dream. It didn't irritate my skin at all and gave me glowing skin in a matter of minutes. – Bethany Waters
I love this highlighter so much! It's really great for summertime because it has a gorgeous golden glow to it and is perfect. It's very natural looking for daytime wear, but I can also make it more intense if I want to go out at night! This goes on like a dream and blends super easily. I'm in love with the Technic Strobe FX line! – Hollie Gardiner
This is the ideal product for you if you want a sheer, highlighting effect on your skin. This is not a foundation, but more of a highlighting cream. I'd say it's perfect for people with dry skin or those that prefer lighter coverage. The consistency of this product is quite thick and creamy so I found that it looked best when applied with either fingers or a beauty blender. – Madeleine Bull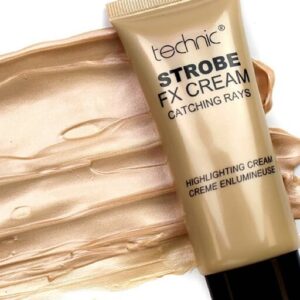 Product Descriptions
Technic Strobe FX Cream is a highlighting cream that can also be used as a primer. It can be applied to the face or body in order to capture light and give you that "glow from within". The perfect addition to your makeup collection. This multi-use cream is your key to illuminating skin! It can be applied all-over, or as a light-reflecting primer to make your complexion glimmer. The luxurious velvety formula contains mineral pigments that highlight the skin's natural features, without being overbearing. The creamy texture blends flawlessly and is completely buildable. Perfect for all skin types.
Features
make your skin glow and shiner
How to Use
1. Apply the highlighter/primer to your cheekbones
2. Lightly dab onto other areas, like your nose and chin
3. Be sure to blend well so that you get a dewy natural glow!