Reference of Sweden Ref Illuminate Color Conditioner is a natural and environmentally friendly product. This Conditioner is a hair color conditioner that increases the visual appearance of color by enhancing the visibility of pigment. The natural ingredients used to produce this product make it truly perfect for keeping hair bright and healthy looking without adding unnecessary chemicals. Ref Illuminate is perfect for all hair colors including black, brown and green energy. The formula contains aloe vera and rice bran oil for moisture, vitamins C and E, to improve shine and fade resistance, respectively.
Review of Reference of Sweden Ref Illuminate Colour Conditioner
I have never been good with my hair. I use to dye it every two weeks, and I would end up with so many split ends that it looked like a birds nest. Since I'm using Ref Illuminate, my hair is much softer and stronger. It even feels thicker than before I started using this product. Now, I'm not dying my hair as often as I used too, which is saving me money in the long run." – Danielle Hicks
I had been on the lookout for a product like this, and am so glad that I found it. I just have to leave it in for a few minutes before rinsing it off with cool or lukewarm water. It is really easy to use, and I've already noticed an increase in shine. I love that it does not contain sulphates or parabens either, as these chemicals can be damaging to the hair over time. Overall, I think that this is a great product. – Mollie Buckley
I have been using this conditioner for a few months now, and I have to say that it is pretty good. I have coloured hair and bleached blonde bits in it, so I need something nourishing and moisturising. This does the job, and leaves my hair really soft. I use about a walnut sized amount for my shoulder length hair, so a bottle lasts me quite a while. This also smells really nice! – Ella Chan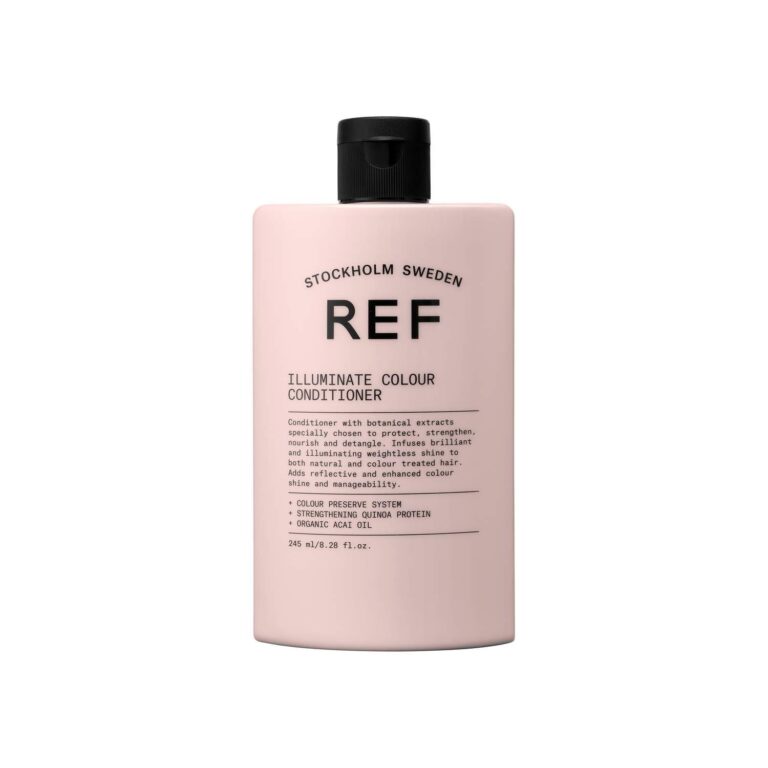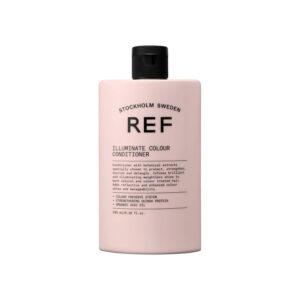 Product Descriptions
Ref Illuminate Colour Conditioner is a colour boost for your hair with active ingredients that nourish and give perfect protection from damage. The hair colour is protected and the shine is boosted. The result is an intensified colour reflex after several uses.The conditioner has 100% natural ingredients, like an infusion of roots, burnt sugar and cherrywood oil. Pomegranate works to strengthen and protect the hair while aloe vera promotes softness and vitality through its purifying properties.
Features
1. Nourishes hair and preserves the colour
2. Straightens naturally curly hair
3. Protects from heat damage
4. Gives you soft and silky hair in just one application
5. Brings out natural shine and colour tones
How to Use
Apply after shampoo, or in place of a masque.
Gently and massage well into the scalp and hair.
Rinse thoroughly.