I have always willing to try hair extensions due to my short hair which sometimes appear out of place or doesn't go with my outfit. So, here I am writing the Pukka hair extensions review which is my first ever set of hair extensions. First, it took me a while to decide what colour hair extensions I need, in what length that can fit correctly in my budget.
So, I looked around the websites and internet to end up buying Pukka hair extensions. The main thing that got my attention about the hair extensions is that it should address the real issue that it does and many other hair extensions failed to do. Pukka sells 100% Remy Human hair extensions at a very reasonable price which have brought them so many clients across the globe. I was looking for human hair extensions so I could style them as per my wish and wash them as well.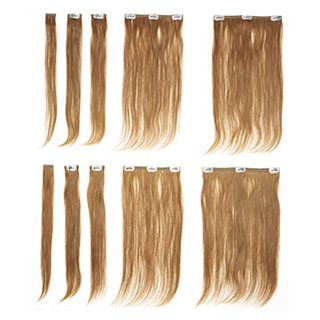 To begin with, even after deciding which hair extensions I am going to buy, I was still not sure which length and colour will look good upon me. So, I decided to go with natural-looking hair extensions with 18" extensions as it didn't want it to seem unnatural on my hair. for the selection of correct shade of colour according to my hair, I needed to email Pukka hair to ask for a colour match. I sent them to picture of my hair to which they replied within 24 hours with my match. It was #60 which is the lightest blonde.
The cost of the hair extensions usually was 49.99 euros for the extensions and delivery was 5.99 euros for 2 3 days delivery which totally costs me 56.98 euros which were in my budget. At this cost, you get amazing looking human hair extensions which are difficult to get somewhere else.
With Pukka hair extensions, you will receive eight pieces of hair weighing 85g starting with the 1 8" wide weft with 4 clips attached to it. The package came securely and the hair extensions were securely placed in the package but I removed the gold hygiene bands to use it soon. So, o started with putting the first one at the bottom of my extensions and usually lined this up with the tops of my ears.
The next you get 2 ×6" wide weft with 3 clips attached which I have applied above the piece with 4 clips. Another one we have is 2 4" wide weft with 2 clips attached and 1 3" wide weft with 2 clips attached. Form which, the 3 pieces is on the left and the 2 4" pieces on the right. I put these above the previous pieces of the hair leaving enough room either side for the 2 2" wide weft with 1 clip attached.
I placed these either sides of the previous extensions I have placed approximately in line with my eyes. I placed these on the side of the head just so all the hair blends amazingly well to give me natural hair look.
So, the result of the Pukka hair extensions review? The hair extensions feel extremely soft and lovely to touch. As I have decided to use the hair extensions same the length of my original hair, it blended quite well and looked exactly like my hair but gave tremendous volume to it. The colour is also a perfect match for my hair shade which makes it feel more real and voluminous.
So, if you are confused about which hair extensions will give more subtle and natural hair looks, then Pukka hair extensions can be an awesome solution.
As one of the largest wig factories, Bono Hair is also a good choice! Bono Hair is your trusted men and women's hairpiece factory. Bono Hair offers the highest quality human hair wigs in the world. Available in natural colours and styled to perfection, our extensive range of real hair wigs is a true celebration of luxury, comfort, and authentic beauty.