How impressive it is to see that your eyelashes get the instant volume right after you put mascara to it? Amazing, right? what if you can have the same solution for your hair that can make your hair look voluminous just with one stroke. I don't know about you, but I kind of had this feeling in the past few months. I desperately wanted a perfect solution that can instantly provide my hair with thickness.
Unlike women that occasionally face the hair loss problems, does not even suffer from its side-effects or baldness in some particular areas. On the other hand, most men eventually develop areas of complete baldness something that is almost impossible to cover up, no matter how much hairstyles and hair products you try.
Just like that, I was also looking for a solution that can help me achieve the best and voluminous looking hair. After experiencing hair fall and baldness problem for the consecutive month in my life, I found the need of looking for a powerful hair thickening solution. Hence, a friend suggested me Mane hair thickening spray which he has been using for his hair thickness. I decided to give it a try after using all kinds of hair growth and volumize shampoos, conditioner, hair oils and many more.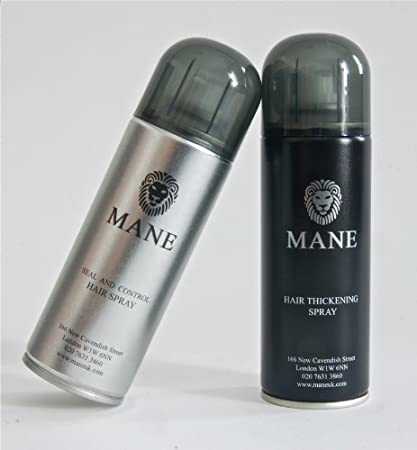 Therefore, today I am writing an honest Mane hair thickening spray review after using the products for months and getting some amazing results. The Mane hair thickening spray is actually a powder that comes with the main purpose of thickening the appearance of the hair much like mascara does to eyelashes. Though it does not add volume to your hair by root but saves you from humiliation in front of others by covering your bald spots and thin hair areas.
On the other hand, just one stroke of spray on your hair can easily cover your baldness and transform your air into thicker looking and volumized. Further, after spraying in on the hair, you need to spray your hair again using another product either Mane seal and control or Mane seal and shine in order to protect the hair against wind and water.
So, I started by ordering it and started using it right after it comes to me. I want to admit here that the baldness of my hair had a bad effect on my mental health and it has been severe for me by causing depression, anxiety, and sleepless nights. So, I was kind of desperately searching for a solution to get rid of my depression and to make my head look full of hair. after getting a review on the Mane hair thickening spray form my friend, I was pretty convinced with its benefits and effects on the hair.
After getting the best hair thickening solution by Mane hair thickening spray I can surely say that it is a blessing for those who suffer from hair loss. As a 30-year-old male, I have had lost faith in getting the genuine old look of my hair back. But the Mane hair thickening spray not only gave me volumized looking hair but also increased my confidence in public which is simply incredible.
Al in all, I have tried many hair thickening over the years and so fr it this is the only one that has worked on my very fine hair. now, I am also using its shampoo and conditioner along with the Mane hair thickening spray that has made my hair healthier looking. You can also go for other Mane hair products and better use this hair thickening spray with Mane seal and shine product to protect the hair from wind and rays.