Suffering constantly from the itching and irritation caused because of piles or haemorrhoids? Don't worry! The best Germoloids cream review is here for you!
I have got a permanent solution to those irritating feeling and to get rid of itching and numbing pain. The solution namely Germoloids cream is a triple action treatment for piles/haemorrhoids with the local anaesthetic formula for quick relief form numbing pain and itching. On the other hand, the cream is so useful that it also helps to shrink and reduce the swelling of piles. Not only this, the Germoloids cream comes with some awesome antiseptic properties that further help to protect the skin against infection.
When I was suffering from such issues and was looking for the solution to get instant relief from my pain and irritation, I consulted a doctor. My doctor suggested me Germoloids cream if I wanted a great and quick solution to relieve my pain and be relaxed. I immediately bought the cream which cost me 4.29 euros for 100g pack. The result came immediately as my doctor recommended with the great format of the cream that helps to moisturise and soothe sensitive skin. Further, the formula comes with an applicator for easy and hygienic use for sensitive areas.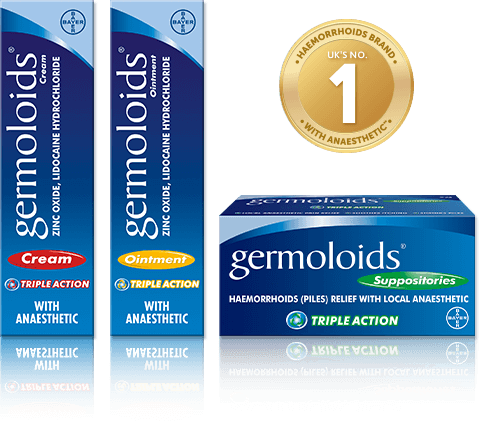 Whether the piles or haemorrhoids are internal or external, the Germoloids cream provides instant relief and soothes the area quite well. All you need to do is to properly apply to the area 2-4 times a day special after a bowel movement. In addition to this, the great pain relief cream can be used by both adults and chider over 12 years as well as during pregnancy or breastfeeding.
After suffering for almost two months of the problem of internal piles, I started using Germoloids cream and I got pretty fast and effective relief from it. The amazing formula of Germoloids cream gives internal and external relief from, piles or haemorrhoids and anal itching as it contains a local anaesthetic which helps it to provide effective relief from pain and discomfort.
The cream further comes with a number of directions, restrictions and warnings to use. Such as, it is strictly written on the tube that is only for use in and around the anus only. Also, please read the enclosed leaflet carefully before using the Germoloids cream for your problem to avoid any harm.
Read: CeraVe Sa Smoothing Cream Review
Following are the points of product uses which will help you to use the cream securely and correctly as per the direction.
Can be used by adults and children over 12 years
Apply as directed in the leaflet of the Germoloids cream
Use at least twice per day with a minimum of 3 to 4 hours between application
Particularly recommended to use after a bowel movement
Do jot use more than 4 times in any 24 hours
If your symptoms persist, consult your doctor
Wash your hands thoroughly before and after application
Strictly not recommended for children below 12 years
If you ask me, my experience with Germoloids cream is pretty useful and effective as it has soothed me and my irritation quite well. Now I use the cream 4 times a day and it never fails to impress me with its relieving agents and help to get rid of itching. I will definitely recommend this cream to those who suffer from problems like pile or haemorrhoids that cause internal or external itchiness and discomfort.
Read: Mane Hair Thickening Spray Review
You can simply consider this as an honest Germoloids cream review and can go for it easily without fearing about its side effects which are none if you are following its precaution and direction of use. Hope this review will help you to relieve your pain and irritation.