Loungewear, athleisure, and minimalist accessories have dominated the runways for the last few seasons. With the COVID-19 pandemic and its quarantines and restrictions largely keeping people at home, there hasn't been much need for dazzling looks and bold jewelry. Let's face it — How much jewelry do you really need to wear while working from home or stuck in quarantine?
With life taking on a new normal and people getting back to living their lives, though, 2022 is shaping up to be a much more over-the-top year in terms of dope jewelry and blingy accessories that are definitely made to stand out. When it comes to trending jewelry pieces for the spring 2022 season, it's all about ornate details, retro-inspired flair, and iced-out accessories. From one-of-a-kind custom diamond pendants to chunky gold chains, this season's jewelry is meant to turn heads.
Check out these trending jewelry pieces if you are ready to freshen up your style in anticipation of the upcoming season!
1. Custom Diamond Pendants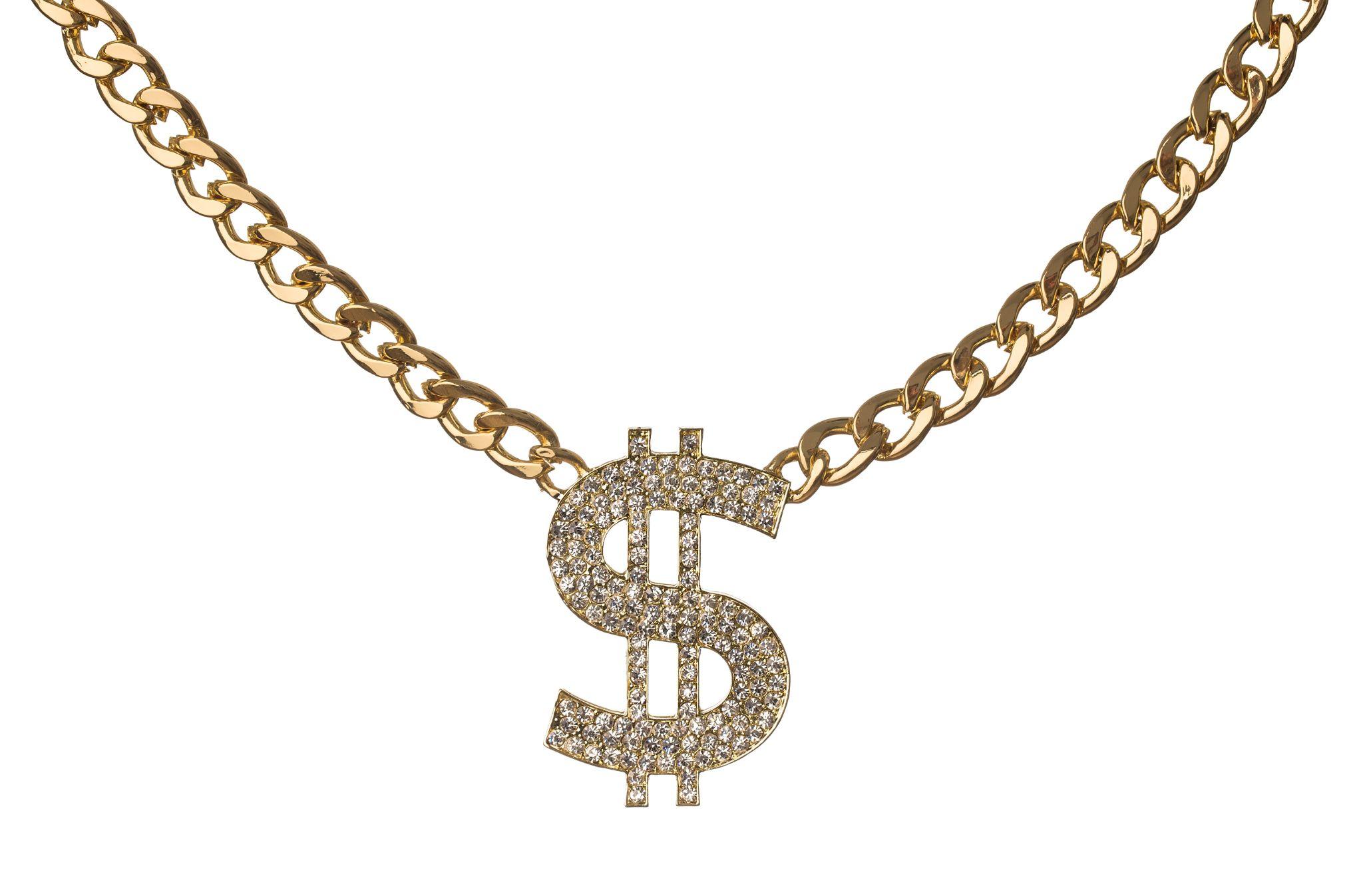 Source: rangizzz/Shutterstock.com
Why risk showing up to an event wearing the same jewelry as someone else when you can rock a one-of-a-kind diamond pendant instead? The ultimate status symbols and custom diamond pendants come in nearly any design, size and style you can think of. With the right jeweler, your imagination is the only limit to the possibilities. Have a pendant made featuring your name or nickname, or get one with a logo, athletic number, a city that's important to you, or something else that's significant to you.
You will never have to worry about seeing someone else wearing the same piece of jewelry, and you'll get to enjoy the satisfaction that comes from owning a truly unique accessory. Plus, custom diamond pendants make superb heirloom pieces to pass down through generations of your family.
2. Chunky Gold Chains
Gold necklaces never go out of style. But in 2022, it's time to ditch the dainty layered chains in favor of some larger-than-life links. Whether worn alone or with other eye-catching pieces (like those custom diamond pendants mentioned above!), bold gold chains make a big statement and look great with just about any outfit.
Men's gold-plated chains come in several styles and are more wallet-friendly than solid gold pieces. They have all the shimmer and bling at a fraction of the price, so they're an ideal choice for the baller on a budget. Of course, if you are looking for an investment piece that will increase in monetary value with time, a chain made from solid gold is your best bet. But if you like staying on top of the latest trends and changing your look with the season, shopping for top-quality gold-plated jewelry is an excellent way to maintain an on-trend look without draining your bank account or maxing out your credit cards.
3. Iced-Out Earrings
Tuck your simple studs and small hoops away in your jewelry box. This spring, it's all about eye-popping chandelier earrings. The bigger, the better! Vintage-inspired drop earrings featuring colorful gemstones are a popular choice, but you can't go wrong with diamonds when you really want to turn heads. Gold earrings encrusted with sparkling diamonds are a perfect way to illuminate your look this spring, and you never have to worry about them going out of style. Plus, you can easily mix and match them with the rest of your jewelry collection to create suitable looks for any occasion.
4. Cocktail Rings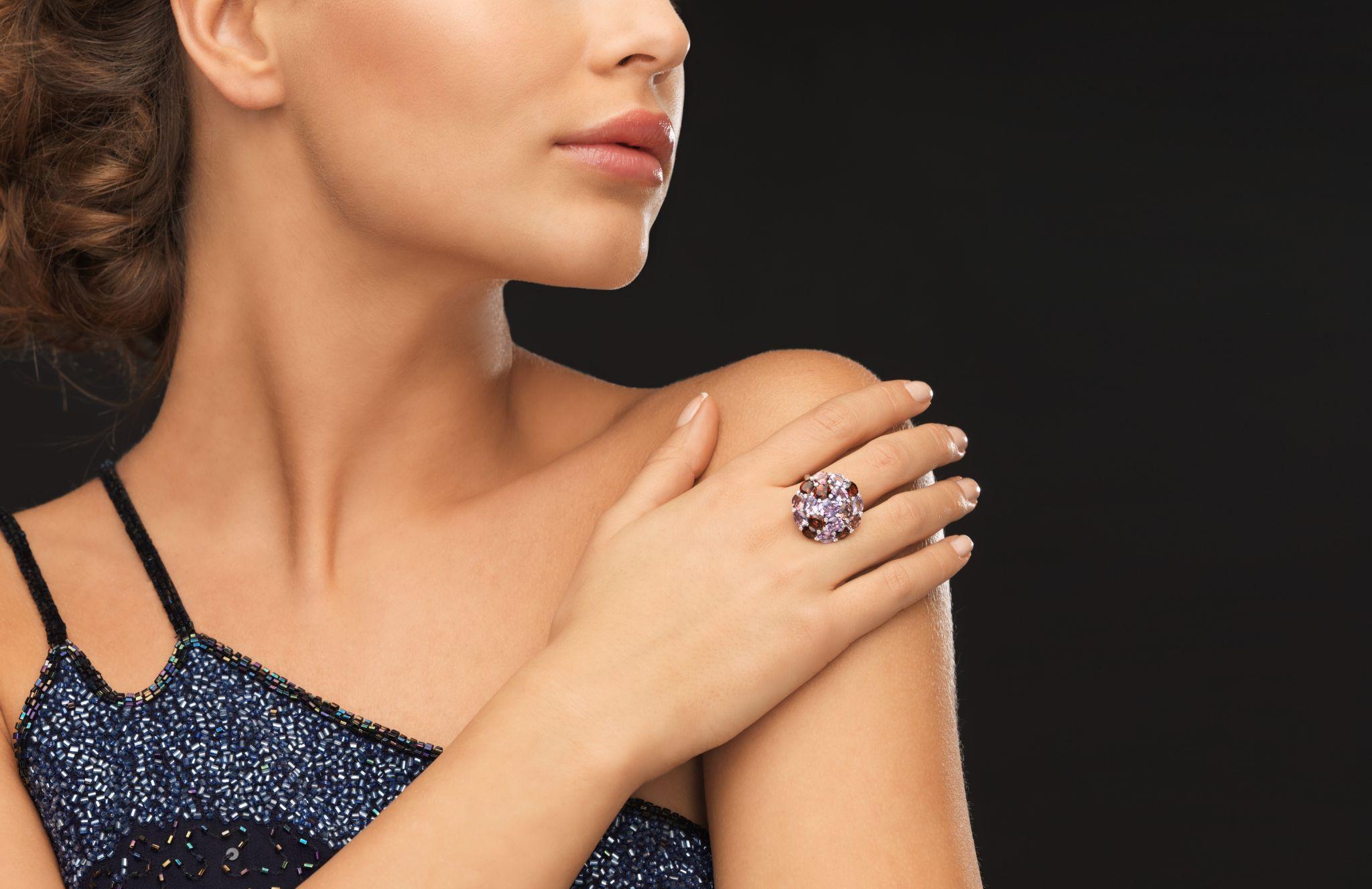 Source: Syda Productions/Shutterstock.com
When it comes to bold jewelry, it doesn't get much bolder than a cocktail ring. Once favored by the flapper girls of the 1920s, today's cocktail rings are perfect for adding sparkle to your fingers whether you're hitting the club or heading into the office.
Large, eye-catching statement rings have never entirely gone out of fashion, but they saw a bit of a downturn over the last few years as simpler, more minimalistic designs became more popular choices. However, this spring, they've seen an enormous resurgence in popularity. If you are looking for one piece of jewelry that will elevate your style this year, make it a cocktail ring.
5. Bold Branding
If you are someone who has always loved showing off your favorite brands, you'll be thrilled to hear that logomania has entered the jewelry world. Purses, belts, and shoes aren't the only accessories you can find emblazoned with your favorite logos. This season, the runway was filled with jewelry pieces showcasing logos from top brands like Chanel, Valentino, Dolce & Gabbana and more. No matter what brand you love, you can probably find its logo on earrings, a pendant or even a brooch.
6. Gold Grills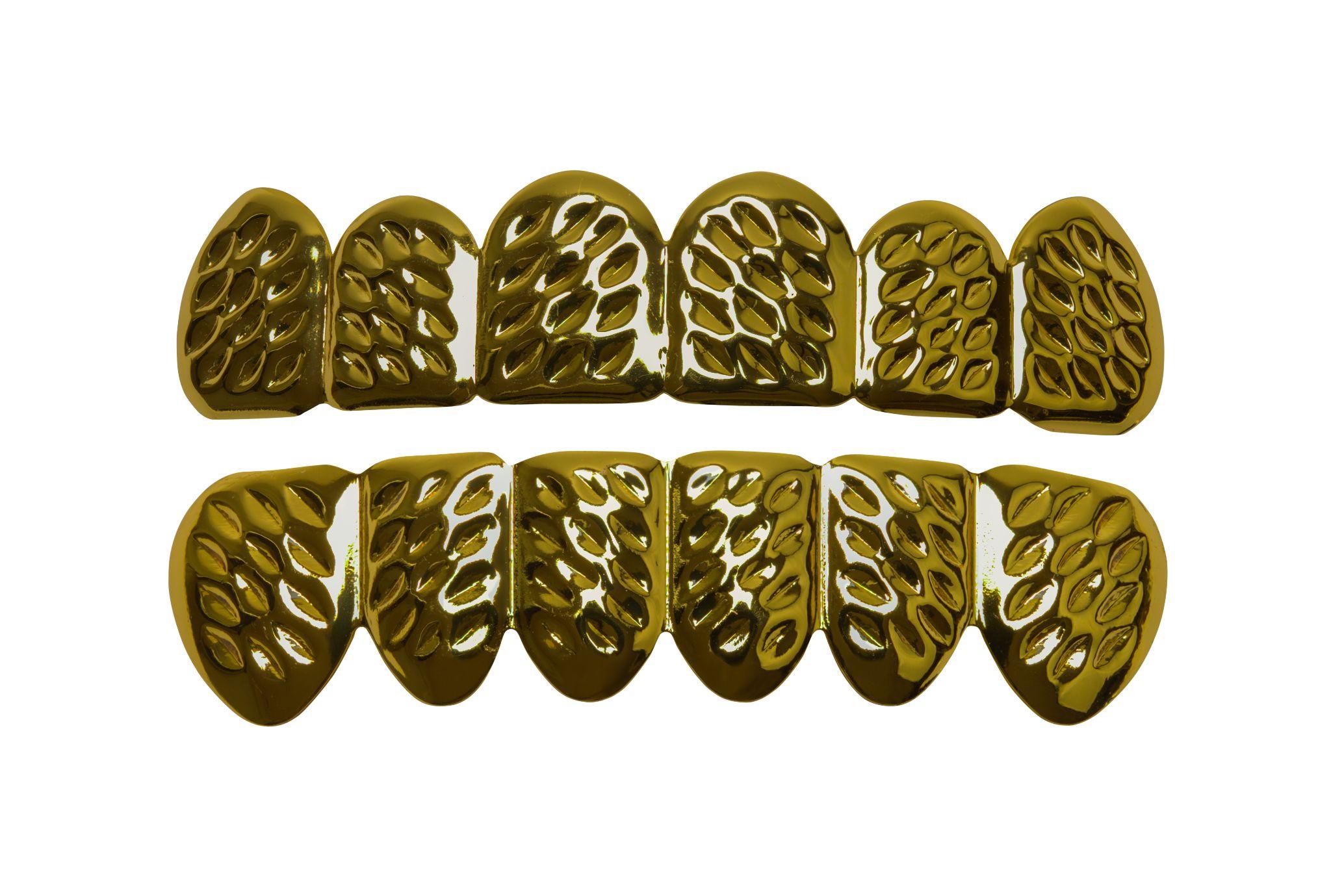 Source: Mega Pixel/Shutterstock.com
This spring, flash a dazzling smile with a set of gold grills. Let's face it — You can't get much flashier than having a mouth filled with gold and diamonds or other gemstones! Gold grills are one of the biggest must-have accessories for 2022, and they are the perfect accessories for men and women alike. Loved by hip hop artists for decades, grills have become more mainstream accessories in recent years, and if you don't have a set, you're missing out. Much like a luxury watch, gold grills are a status symbol that will turn heads for all the right reasons.
7. Body Chains
Body chains have popped up in the fashion world several times throughout history. Most recently seen in the aughts, they are back in a big way in 2022. From chain belts to waist chains, there are several styles from which to choose. These unique accessories are perfect when you want to add some sparkle to your favorite skin-baring looks!
Conclusion
This spring is the time to tuck your minimalist accessories away and bust out your favorite bold jewelry pieces. Forget about subtlety! This season is all about eye-catching looks and over-the-top accessories. If you have been dying to get out of the house and show off some head-turning styles, now is the perfect time to do so.